The Harwood Institute Appoints Deborah Alvarez-Rodriguez as Board Chair
Bethesda, Md. (PRWEB) July 10, 2014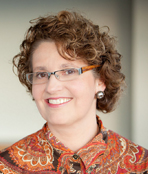 The Harwood Institute for Public Innovation is pleased to announce the appointment of Deborah Alvarez-Rodriguez as Chair of the organization's Board of Directors.
Alvarez-Rodriguez is a successful social entrepreneur and social justice advocate. Blending the power of philanthropy, business and environmental sustainability, she has helped transform numerous organizations through her executive leadership, board service and consulting. She founded Seam Innovation in 2013, a strategic advising practice serving leaders of boundary-spanning organizations and enterprises throughout the United States.
"This is a tremendous opportunity for me," said Alvarez-Rodriguez, who has more than 25 years of executive management experience in the nonprofit, philanthropic, public, private and social sectors. "I look forward to further increasing The Harwood Institute's visibility as the premier leader in community change and developing community leaders."
Rich Harwood, the Institute's Founder & President, said he is pleased to have Alvarez-Rodriguez at the board's helm. "I have long been an admirer of Deborah and her profound dedication to improving the public good," Harwood said. "With her leadership, we are well-positioned to achieve the many goals we have set to move this country forward."
The Harwood Institute is a national nonprofit organization based in Bethesda, Md. that teaches and coaches people and organizations to solve pressing problems and change how communities work together. As head of the organization, Rich Harwood has dedicated more than 25 years to transforming communities and improving public discourse across the country.
The daughter of immigrant parents from Puerto Rico, Alvarez-Rodriguez was raised in Brooklyn and educated at Harvard-Radcliffe College. She is an award-winning CEO recognized for her dynamic and inclusive leadership style and known for catalyzing change within organizations to lead them toward greater innovation, accountability and impact.
The San Francisco Business Times named Alvarez-Rodriguez "The Most Admired Nonprofit CEO." She also received the Leadership Award from Independent Sector, a network for nonprofits, foundations and corporations committed to advancing the common good. She is also the winner of Latino Leaders Magazine's Maestro Award for Philanthropy.
Alvarez-Rodriguez is known for using collaboration as an instrument for social change and has worked with a number of coalitions to improve the health and well-being of all people. She recently served as Interim CEO of The East Bay Community Foundation after serving on its Board of Directors for nine years.